Waiting On" Wednesday is a weekly event, hosted by Jill at Breaking The Spine.com, that spotlights upcoming releases that we're eagerly anticipating.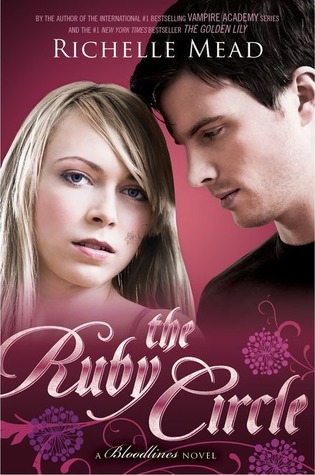 This week's can't-wait-to-read is:
The Ruby Circle 
A Bloodlines Novel
by Richelle Mead
02 . 10 . 15 
From GoodReads: 
The epic conclusion to Richelle Mead's New York Times bestselling Bloodlines series is finally here…
Sydney Sage is an Alchemist, one of a group of humans who dabble in magic and serve to bridge the worlds of humans and vampires. They protect vampire secrets—and human lives.
After their secret romance is exposed, Sydney and Adrian find themselves facing the wrath of both the Alchemists and the Moroi in this electrifying conclusion to Richelle Mead's New York Times bestselling Bloodlines series. When the life of someone they both love is put on the line, Sydney risks everything to hunt down a deadly former nemesis. Meanwhile, Adrian becomes enmeshed in a puzzle that could hold the key to a shocking secret about spirit magic, a secret that could shake the entire Moroi world.
Why I am waiting…
I am not going to lie — I am both ecstatic that this will being coming out soon and terribly sad.  I have really enjoyed this Bloodlines series, much more than I had anticipated.  I read Mead's Georgina Kincaid Novels first and they were phenomenal — though a bit more adult / graphic in their content than Vampire Academy Series which I also thoroughly enjoyed (I really wish that they had done a better job with the movie on that one though).
So, though I really want to know how the series is going to end — especially after the cliff hanger at the end of the last book, I simply don't want the series to actually end.
Perhaps I will have to check out her Game Board of the Gods series after this.  I have heard some good things!