Waiting On" Wednesday is a weekly event, hosted by Jill at Breaking The Spine.com, that spotlights upcoming releases that we're eagerly anticipating.
This weeks can't-wait-to-read is: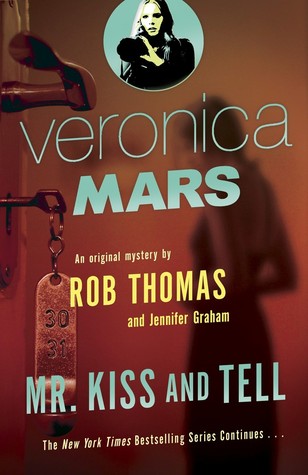 Mr. Kiss and Tell 
Veronica Mars #2
by Rob Thomas, Jennifer Graham
01 . 26 . 15
From GoodReads:
In the second book in the New York Times bestselling mystery series, Veronica Mars is back with a case that will expose the hidden workings of one of Neptune's most murderous locations.
The Neptune Grand has always been the seaside town's ritziest hotel, despite the shady dealings and high-profile scandals that seem to follow its elite guests. When a woman claims that she was brutally assaulted in one of its rooms and left for dead by a staff member, the owners know that they have a potential powder keg on their hands. They turn to Veronica to disprove—or prove—the woman's story.
The case is a complicated mix of hard facts, mysterious occurrences, and uncooperative witnesses. The hotel refuses to turn over its reservation list and the victim won't divulge who she was meeting that night. Add in the facts that the attack happened months ago, the victim's memory is fuzzy, and there are holes in the hotel's surveillance system, and Veronica has a convoluted mess on her hands. As she works to fill in the missing pieces, it becomes clear that someone is lying—but who? And why?
Why I am waiting: 
I am not gonna lie, I came to the Veronica Mars party a bit late. I finally decided to give it a try on Netflix one afternoon.  My sister had been telling me for years that I was going to love it — especially since I lover Buffy the Vampire Slayer, Angel, Roswell, Dark Angel, NCIS…etc.  Anyways — I gave in and less than a week later I had binge watched all three season and the fan-funded movie.  The series is just fantastic.  Though I do hear that there is a possibility for another movie, the story of the Veronica's adventures is currently being continued through novels.  A friend gave me the first book, The Ten Thousand-Dollar Tan Line, and I finished it in a DAY.  This next book looks like it is going to be just as good and I am so excited.